CJI Americas 2020 LIVE BLOG: November 18th
Welcome to CJI Americas 2020 Day Two!
While we are unable to meet face to face in 2020, CJI Americas 2020 Virtual will bring the industry together online. To know more about the sessions, find our agenda here.
Over 450 senior level operators, brokers, OEMs, financiers, flight support companies, charter arrangers, expert advisers, appraisers, and many others active in business jet transactions will speak about the latest developments and connect with others across the industry.
You can follow a minute-to-minute coverage of the sessions from 18th November here. If you missed our live blog from yesterday, 17th November, simply follow this link.
---
US Aircraft Registry – Top 10 things you need to know now
For the first time "in forever" the FAA has begun to embrace change, according to Scott McCreary. What's more, the lawyer and leader of the Aviation Group, McAfee & Taft, thinks it is change that will last long-term beyond the pandemic.
"What I've seen change from a broad perspective is that the FAA is actually more receptive to change. The pandemic and all that has happened with it has caused the FAA to change a number of procedures and methods that we would go through for filing. It looks like it will beg hang that lasts at least up until the point in time that they're [the FAA] able to make some upgrades to their system. So, I think it is going to be long-term change."
– YM
---
Why customers need an aircraft in the now normal
Many travellers who would fly business class before are now more likely to buy a business jet, said Gregory Ryan, senior sales director, GE Aviation.
"For sure, over the next 12 months you are going to see a demographic shift, those are who are first-time buyers or moving up from fractional ownership or jet cards. And they are going to need folks like Mente Group or Global Jet Capital to steer them not only to the right aircraft, but also the right amount that they need to invest into that structure."
Maintenance programmes are especially not something to be ignored for new customers, said Ryan. He also said most first-time buyers are going to be looking at the entry level jets rather than the bigger, more expensive ones.
"But the long-range aircraft will come back. When we bring in new buyers, they tend to move up through the aircraft models. The mid, super-mid and large cabin aircraft will work their way back.
"The now normal is what it is. We will not go back to where we were 12 months ago, but we can be conservatively optimistic. I see us turning a corner much faster than the commercial side."
–YK
---
Charter, fractional and jet cards 2021 – The operator perspective
Gregg Slow said we have seen "episodic bumps" in business aviation activity over the years, but these are usually around surgical incidents and natural disasters. "Somebody will pick up the phone, they only do it once and they never do it again." noted the FXAIR President.
However post-Covid, the conversation Slow is having with clients is different. "With former clients, current clients, new clients, [the discussions] are just very, very different. They might have flown privately a few times now they're never going back to commercial. Or never flown private and never going back to commercial. Or corporately, it used to be C-level executives and now they're looking to possibly bring that down a level or two."
Slow is said its is incumbent on the charter industry to firstly create products which cater to entry level users making for ease of use and, secondly, to service all clients.
"But at the end of the day after 20 years I have never convinced an individual or corporation that doesn't want to fly privately to fly private. The decision to fly private is an emotional event driven sale and Covid is the most emotional event in our lifetimes." said Slow.
– YM
---

2020: A 'watershed moment' for SAF
2020 has been a "watershed moment" for sustainable aviation fuel (SAF), said Bryan Sherbacow, World Energy. "There is more involvement and more activity than I have ever seen," he said.
Mark Masluch, at Bombardier Aviation, said: "The rubber is hitting the road on uptake. This year has been a turning point. The industry is starting to see the fruits of labour over the past three years."
This year has seen the world's two SAF providers, Neste and World Energy, supply SAF to the World Economic Forum. Neste supplied the fuel, while World Energy created the first 'book and claim' platform, so that people flying to Switzerland could use this service.
Masluch said: "Book and claim is a scheme available though fuel providers, FBOs or any other entities, where you purchase a load of fuel, a certain percentage is credited as SAF and it gets pumped somewhere else in the system. So it could be topped up to another aircraft where it is availble. You are removing the carbon costs of transporting from one place to another, but it is still making it into an engine."
Some of the issues holding back wider use of SAF are policy, production and access to capital, the panellists told delegates.
OEMs such as Bombardier Aviation are encouraging customers to use it with every delivery they make, said Masluch. However there are still education barriers to overcome in terms of explaining the process to flight departments.
62.5% of delegates polled during the session said they have customers who want SAF. Neville Fernandes, from Neste is optimistic about how far SAF has come.
"It was only eight years ago that the first barrel of renewable diesel came into California," he said. "We can easily replace 20% of the 4bn gallon market with sustainable aviation fuel, and it could take only eight years."
–YK
---
When should you buy an aircraft?
There is no one reason why someone should buy an airplane says Andy Priester, President and CEO, Priester Aviation, especially if the reason is tax related. "There is no silver bullet with respect to reasons for buying an airplane, if the sole purpose is a tax benefit we would instruct everybody to stop right away. There's no one reason that should drive it."
If something has changed in their profile, or it added to other motivating factors "then perhaps that is what the tipping point winds up being, but a tax purpose by itself in our opinion marks something strange happening."
Potential aircraft buyers who rely on charter revenue are also a red flag for Priester. He said his company tend to shy away from parties reliant on charter revenue — "you're one month, a broken airplane or a Covid slowdown away from not being able to pay your bills. It puts you in an untenable situation."
"So typically we are not trying to talk people out of it if somebody else if offering them 750 hours and they want to try that then, without sounding too callous, we'd rather let that problem be somebody else's."
– YM
---
Where will future growth come from – Five year predictions from Jetcraft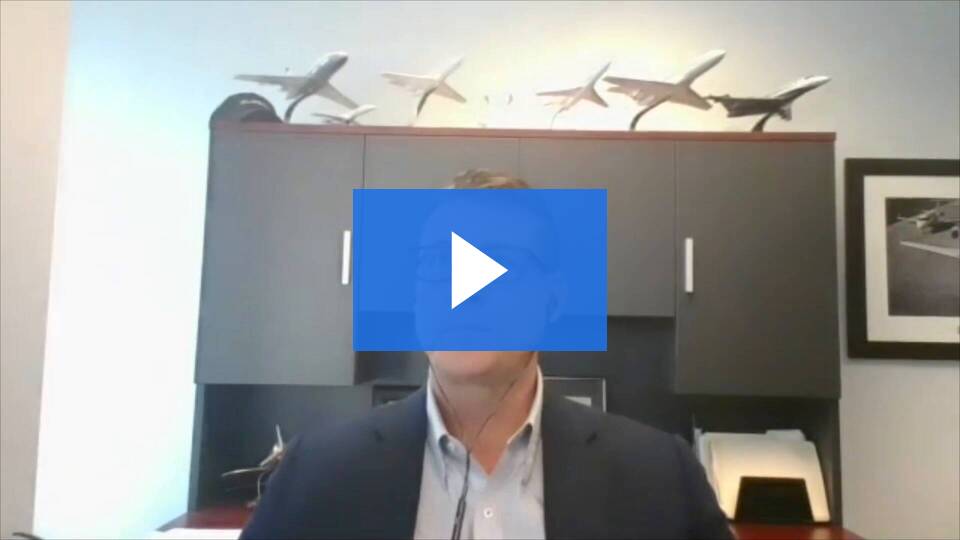 The health of activity in charter and fractional programmes is a good sign for future investment in aircraft beyond 2020 says Jetcraft President Chad Anderson.
"The numbers that we are seeing and hearing right now [in charter] is absolutely the seed that plants and becomes a bigger airplane or a whole airplane down the road. It's like the saying 'dipping your toe in the water'; it's an opportunity for clients and buyers to realise the real benefits of business aviation."
Anderson continued: "This is another big lesson our industry is going to learn compared to the '08, '09 downturn. At that time the integrity of business aviation was challenged it was a shameful event for somebody to have an aircraft. Now that is very much not the case. We are seeing all kinds of examples of integral use of business aviation that show us a good long-term sustainability in what we're selling."
– YM
---
NetJets hopes to finish 2021 at 2019 levels of activity 
Leisure travel is up for NetJets customers. Especially domestically, as international borders in Europe remain close, said Patrick Gallagher, President, Sales & Marketing of NetJets. Gallagher said fliers are staying closer to home, with Montana and Florida as top destinations.
To meet the demand from new customers – mainly through referrals – NetJets offers demonstration flights to onboard potential charter or jet card members. Gallagher is confident that those who enter private aviation now will be long term customers.
"We have seen a continued uptick in the leisure travel that we are doing, and maybe some corporate travel. Coming into this, it was split 60/40, leisure to business travel. Today we're operating at probably 85% of pre-pandemic levels overall, with business travel having not returned at all."
The good news on the business side is that people are holding onto their NetJets shares, says Gallagher. "Corporate customers could give notice and sell back their shares. In nearly every case, they are telling us that once they start flying for business, they are going to have more people using the share for business."
NetJets hopes to finish 2021 at its 2019 levels of activity: "This year we will take 10 more airplanes, making the total global deliveries this year to 31, which is about half of what it would have been if I told you in January. And our forecast for next year is 40-plus airplanes and we see that continuing over the next 10 years or more. We think we have got a nice long runway of an increase in new business."
 –YK
---
Textron – A different sky awaits
The changing process has been the hardest part of selling aircraft in 2020 according to Textron Aviation's Rob Scholl.
The senior vice president of Sales & Flight Operations at the Wichita-based OEM said: "In March and April, I told my team to stand down and stay put. That lasted about 24 hours and they were out flying again. Customers recognised the value of it. What we, as a management team, had to ask was how do we do it in a way that keeps our customers safe, keeps our salespeople safe and keeps our pilots safe.
"To me that's been the biggest challenge: How do you operate in this environment to keep everyone safe?" said Scholl.
– YM
---
CJI Americas Day One: New entrants and recovery prospects set the theme
New customers for business aircraft, often choosing smaller jets, and the prospects for next year were the twin themes of the first day of Corporate Jet Investor's Americas 2020 online conference.
A new breed of High Net Worth Individuals and Ultra High Net Worth Individuals is emerging to re-energise business jet sales, Michael Amalfitano, President and CEO, Embraer Executive Jets, told more than 500 delegates in his keynote address.
"This is leading to much stronger than usual first-time buyer activity," he said. "Before [Covid-19] first-time buyers used to represent 10% to 15% of business jet deliveries. Now it's approaching 50% in some classes – especially entry level jet categories." A clear trend was buyers' interest in smaller aircraft. "We have also seen the pre-owned customers active and this market is heating up, particularly for smaller class aircraft – at least for now."
Hamish Harding, Action Aviation chairman, also highlighted the trend towards new customers. "Most of our buyers are new buyers – the corporates aren't buying at the moment – but there are exceptions. Only 10% of the people who could buy private jets have private jets," he said. Harding confirmed buyers' interest in smaller jets worldwide, if not in the Middle East. "People do want a private jet, so they don't have to travel with other people. The concept of buying a smaller jet, just to be on your own, becomes possible and that trend is driving the current light jet market."
Garett Jerde, founder and MD, JetHQ, was equally upbeat about the prospects for new entrants revitalising private aviation. "I don't think we have even scratched the surface. There're so many people who can afford private aviation and now they're coming out," said Jerde. He also detected interest in smaller-sized aircraft. "Everybody thinks of G550 or a G650 or a Global 5000, but you can start a lot smaller to serve your purposes." New entrants could buy a 400XP for $1.5m, he added.
Joseph Carfagna Jr, President and CEO, Leading Edge Aviation Solutions, agreed buyers were focusing on small aircraft. "This upturn [in 2020] is different because it's driven by smaller aircraft," said Carfagna. "The first-time buyers back when the market was hot in 2007 were buying big airplanes, as their first airplanes. This is a different segment that seems to be stepping in because of necessity because they don't want to fly on airlines. It's not wretched excess, which is what we had in 2007."
Brian Proctor, founder, President and CEO, Mente Group, guides his customers towards considering price rather than aircraft size. "Instead of looking at a segment we should be looking at a price point. The market will continue to be strong at $20m and below for the foreseeable future. At that price point you can buy everything except for a Sovereign, a 650, a 7500. There are a lot of airplanes that you can buy at $20m and below."
Retaining new clients was the focus of interest for Andrew Collins, President and CEO, Sentient Jet, and lead executive, OneSky. "The first wave of new entrants has somewhat subsided," he said. "So in order for us to breakout further into this addressable market space, we are going to have to retain those clients." He noted a trend towards lower level executives now flying privately.
Concern about the fate of 100% bonus depreciation on aircraft sales also focused speakers' attention. Clay Healey, CEO, AIC Title Service, worried a new administration in the White House was likely to change the structure of taxation and probably remove the 100% depreciation from aircraft buyers, which was "very beneficial" for buyers, OEMs and used aircraft dealers.
Carfagna thought 100% bonus depreciation would survive next year if the Republicans held the Senate. "If Republicans keep the Senate on January 5th, there will be no change and people will keep buying aircraft into 2021."
–MS
---
You can contact any of our journalists by clicking the initials at the end of each story. Alternatively, please use any of the links below:
AW – Alasdair Whyte – [email protected]
MS – Mike Stones – [email protected]
YK – Yuvan Kumar – [email protected]
YM – Yves Le Marquand – [email protected]